Design for Wellbeing Methodology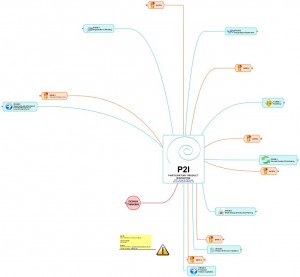 The Design for Wellbeing methodology is a need-driven approach to creative product development. It is based on a Participatory Product Innovation (P²I) framework [1] and can be viewed as a hybrid of the systematic properties of integrated product development [2] and the creative properties of the "IDEO way" [3], with a solid base in needfinding approaches to design [4],[5]. The approach encourages designers and engineers to interact directly with users to gain insights into the customer domain.
The generic P²I master plan consisting of a timeline and a number of sequences to go through, guides the practitioner in the product development activities. The master plan does not point out the sequences in detail and the purpose is to provide the practitioner with an overview tool to estimate the efforts required for the whole project, as well as a map to keywords useful for searching relevant literature. The practitioner is encouraged to develop and improve the master plan. Practically, this means that the students are encouraged to use a variety of creative methods, e.g., the IDEO method cards and different brainstorming techniques, especially in the needfinding and concept generation phases.
At the moment, P2I include seven overall sequences;
Planning,
Design space exploration,
Roadmap,
Concept design and prototyping,
Detail design and manufacturing,
Pre-launch and
Product launch.
Besides the needfinding process, the second sequence, design space exploration, includes benchmarking, related technology and scoping. These activities are guided by the questions – What? Who? How? Why? The needfinding activities emphasise the 'why question' in particular to understand the customer's context and priorities. The 'what question' is posed to understand the customer's daily activities in detail. Within this interplay needs can be more carefully discerned. The scoping activities limits the design space by analysing data generated in previous activities. This activity prepares for the third sequence, the roadmap. A mission statement is included in the roadmap sequence. The mission statement establishes the general direction of the project without prescribing a particular way to proceed. Those who should benefit from the product and a description of how the target group should experience those benefits are to be included in the mission statement.
Ericson, Åsa ; Larsson, Tobias ; Larsson, Andreas. (2007) "In search of what is missing : needfinding the SIRIUS way". In: Knowledge Sharing and Collaborative Engineering : Proceedings of Fourth IASTED International Conference on Knowledge Sharing and Collaborative Engineering, KSCE 2006. Acta Press, 2007. 6 p.
K.T. Ulrich & S.D. Eppinger, Product design and development (USA; McGraw-Hill, 2000).
T. Kelley, The art of innovation. Lessons in creativity from IDEO, America's leading design firm (USA; Currency and Doubleday, 2001)
D. Patnaik & R. Becker, Needfinding: The Why and How of Uncovering People's Needs, Design Management Journal, 10 (2), 1999, 37-43.
R. Faste, Perceiving Needs. SAE Future Transportation Technology Conference and Exposition, Society of Automotive Engineers, Inc., Seattle, Washington, USA, 1987, 419-423.